Tai Llyn Dig nears completion
After a summer constantly interrupted by wet weather, the archaeological dig at Tai Llyn is nearly complete.
No's 2 and 13 were excavated and a preliminary dig report appears on the Tai Llyn page on this website.
The Excavation Team were led by Bill and Mary Jones and comprised of members of the Cofio Cwmorthin Project and the Bro Ffestiniog Archaeology Society. It took over twenty dig-days to complete and included the excavation of the complete frontage of Nos 1 to 5.
Left to do is a search for a possible well behind the stone-built section and if practical an excavation of one of the toilet blocks for that section. Strong volunteers will be needed to help with this are there are heavi stone blocks that need moving. Watch our Facebook page for news.
Project Update 17/10/15
Despite the summer proving very poor regarding any building work our contractors D & C Jones have successfully managed to complete the capping work on Capel Tiberias, Capel y Golan, Rhosydd Stables and Tai Conglog. An Irish Bridge has been constructed between the Conglog track and Plas Cwmorthin and this will be monitored over the winter to see if it stands up to the floods often experienced up there.
The trees around the Plas have been trimmed to prevent branches damaging the top of the walls which will soon be stripped of growth.
The track which joined the Plas to Cwmorthin Uchaf has been strimmed to allow easier access for the work team and walkers.
Work is due to begin on Cwmorthin Uchaf in the coming week. Watch for more updates...!!!
Project update
Before the bad weather set in contractors D&C Jones were able to complete the capping of Nos1 and 2 Tai Llyn/Cwmorthin Terrace. Here are some photos of the excellent work done.
Also featured are a couple of views of the now cleared No13 - the end stone-built cottage. This will be archaeologically investigated in the Spring as l either No1 or No2 after further assessment.
No13 has already surfaced an intriguing animal skeleton, buried behind the fireplace.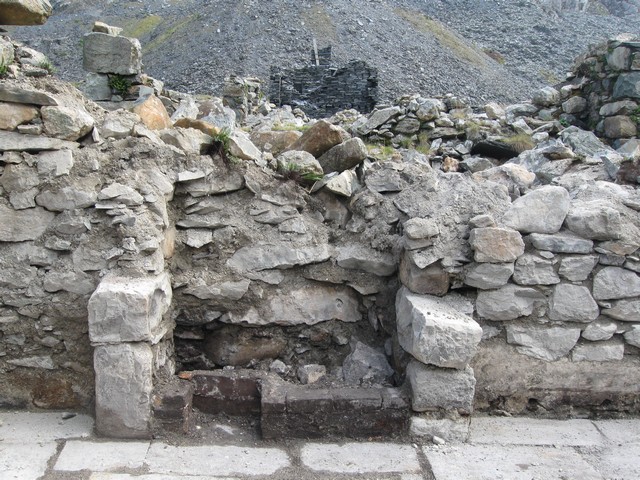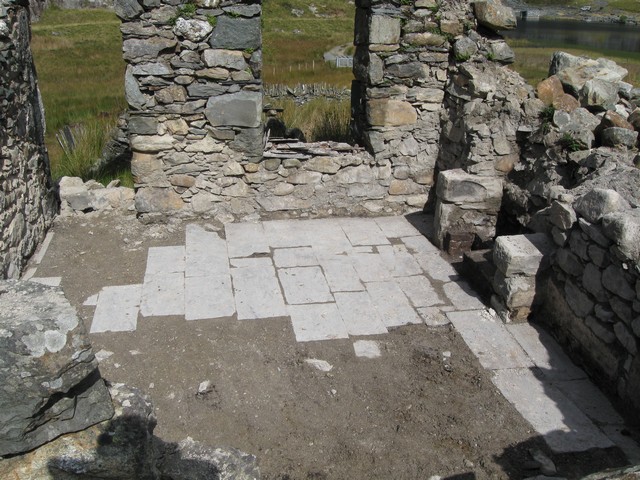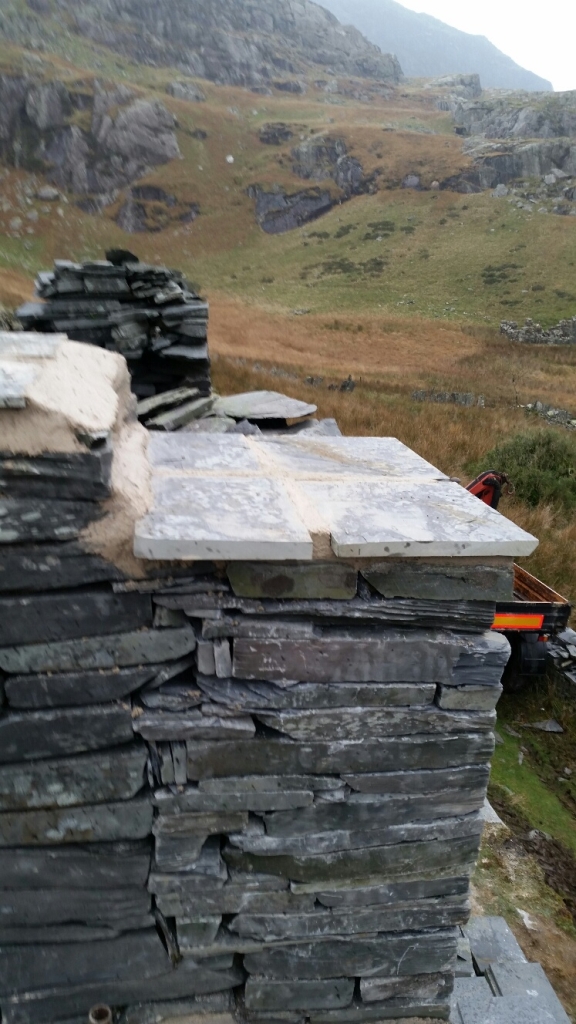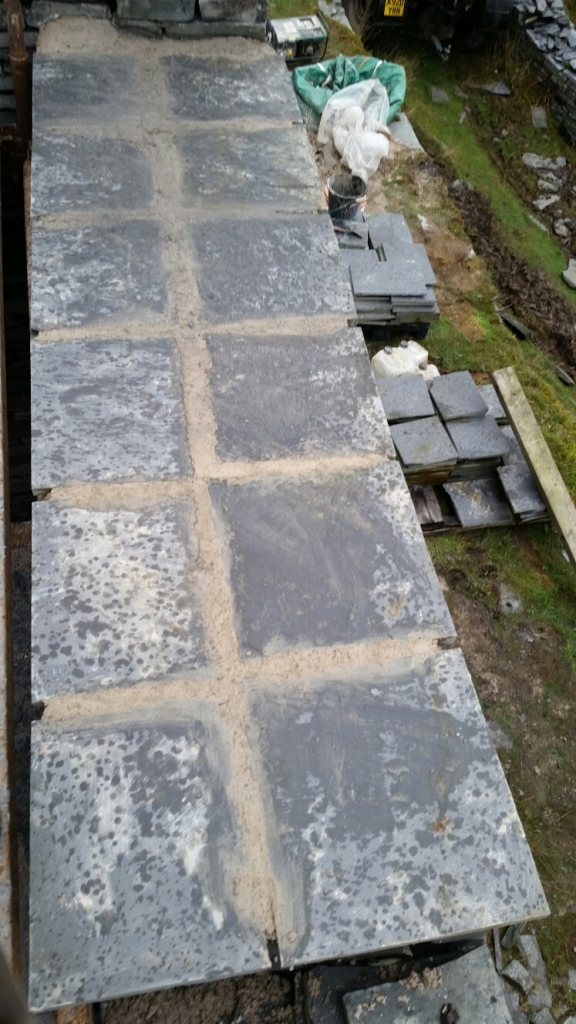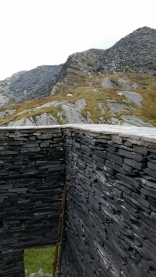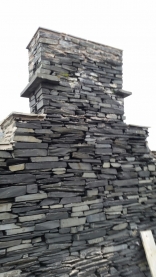 Tir a Môr award £25,000 towards project
Following a private donation of £10,000 in October the Cofio Cwmorthin Remembered project has received another windfall, this time in the form of grant aid from Tir-a-Môr cyf., a company
which distributes grants from the Landfill Tax Fund to communities in North West Wales
Managing Director Roger Dale said:
"Tir-a-Môr first became in involved with Antur Stiniog in 2009-10 offering grant support for the creation of a low level path / cycle route around Tanygrisiau Reservoir. Unfortunately, problems with land access permissions and additional funding has meant that the project has not been able to progress within Tir-a-Môr's funding window.
"Tir-a-Môr was asked by Antur 'Stiniog to consider the Cwmorthin project and we were delighted to find that it was ideal for support under Object E of the Landfill Communities Fund* (LCF) -Maintenance, Repair or Restoration of Religious or Historical Buildings and was within TAM funding window."
This grant brings the total funding to within £10k of the target required for the work to be completed during 2015.
Project Leader Mel Thomas commented:
"We have all worked hard to raise the funds required since we decided not to apply for a Heritage Lottery Grant due to the detail required to meet their criteria. Now we are within sight of the target it should not be too long before we reach it and can then divert our energies back to archaeological work and further historical and social research
"Work continues at Tai Llyn terrace and capping is now complete on the two most threatened end cottages. The iconic chapel, Capel y Gorlan, will be the next in line with some remedial work hopefully being carried out before Christmas.
"We as a group would like to thank Tir a Mor for their support for the project and look forward to showing them and other financial supporters around the finished project at the end of next summer. One point very much worth mentioning is the help and support offered by Ceri and his staff at Antur Stiniog. Their professionalism and encouragement has proved invaluable in getting to where we are now"
The Cofio group was set up in 2010 to research the history of the valley and its people which at one point during the slate-rush provided a home for some 200 people. The last family moved out in 1948 and only one person survives who actually lived there.
Archaeological digs have been carried out and will continue in 2015.
Tir-a Mor's Roger Dale commented on the amount of work already carried out which secured the funding:
"The level of public support, background research and ground works is impressive and I hope the Cwmorthin Project will assist the ambition of the Slate Industry to obtain World Heritage Status"